The Lincoln from Stauer is a gold pocket watch with a full hunter design. The watch takes its name as it is based on the pocket watch owned by Abraham Lincoln.
The original watch owned by Abraham Lincoln was featured heavily in the news last year following the discover of a secret message left by a watch repairer called Jonathan Dillon, the message read Jonathan Dillon April 13-1861, Fort Sumpter was attacked by the rebels on the above date J Dillon, April 13-1861, Washington, thank God we have a government, Jonth Dillon.
Click here for more information.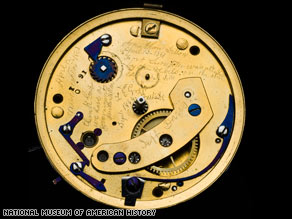 The watch itself is made by The George Chatterton Company who have painstakingly recreated the design of the dial and position of the small second hand and they have even replicated the mysterious engraving on the back of the piece. Anyone interested in either American history or Abraham Lincoln will treasure this piece of workmanship. The movement employs vintage styled manual winding with 20 jewels and the case is 14k gold fused which aims to match the colour of the original exactly which can be found at Smithsonian's Museum of American History. Now over 200 years since the iconic Americans birth the fascination of Lincoln still lives on.
The George Chatterton Watch Company has set a strict limited edition and Stauer is the only place that you can find this piece of history meaning that this will over time become a collectors item for sure.
The George Chatterton Watch Company Lincoln pocket watch is available only from Stauer and in limited numbers – click here to buy or for more information.